Having an Etsy store I get contacted at least once a month by someone or another putting together a local event.  Usually they're asking me to pay hundreds of dollars to participate in their event, with no  guarantees     on the event's attendance or overall organization.  So, after a few money sucking endeavors of that sort this summer I no longer get excited about this sort of solicitation.   I'll always look over the information, but my desire to actually participate has been drained right out of my wallet.  But in October 2016 I was contacted by a scouting agent for the non-profit organization RAW, who liked what she saw in my Etsy shop.  After listening to the voicemail she left I could tell this was something different!  I spoke with the scouting agent and checked out the website, and man oh man, I was pleasantly surprised!
Turns out, RAW is a non-profit organization for artists run by artists, aiming to help said artists establish a career during their first ten years in the field.  And RAW wasn't asking for some monetary investment with no guaranteed returns.  Instead we're asked to sell tickets to an event, in order to cover our costs for participating in the event.  And after that we would be part of the RAW team, and eligible for all variety of opportunities.  I was able to speak with a couple representatives for the company before I gave them an enthusiastic "yes", agreeing to participate in their "Holiday RAWk, Denver" event.
At the time I agreed to participate, the event was about a month and a half out.  I'm also in the midst of preparing for my first gallery show which will be going up at the end of January 2017, so I was excited knowing I would have some new work to bring with me to Holiday RAWk.  But other than that it was just a cool thing I was going to do in the future.  At this point I had a general idea of what I would need to pull together to get ready for the big night, but mostly I had more questions than answers. 
A couple weeks after I agreed to participate in the event we had a walk-through at the venue.  In the meantime I had gotten a couple e-mails from the show's director addressing some preliminary concerns.  I felt well informed about the whole thing, and not at all stressed.  The walk-through went smoothly, and I found it very helpful.  I was completely enamored by the venue which really raised my excitement levels for the event in general!
After the walk through I really amped my promotion of the event!  RAW provided each of us with a personal flyer for the event, which helped with promotions A LOT!!!  I really liked how my flyer turned out!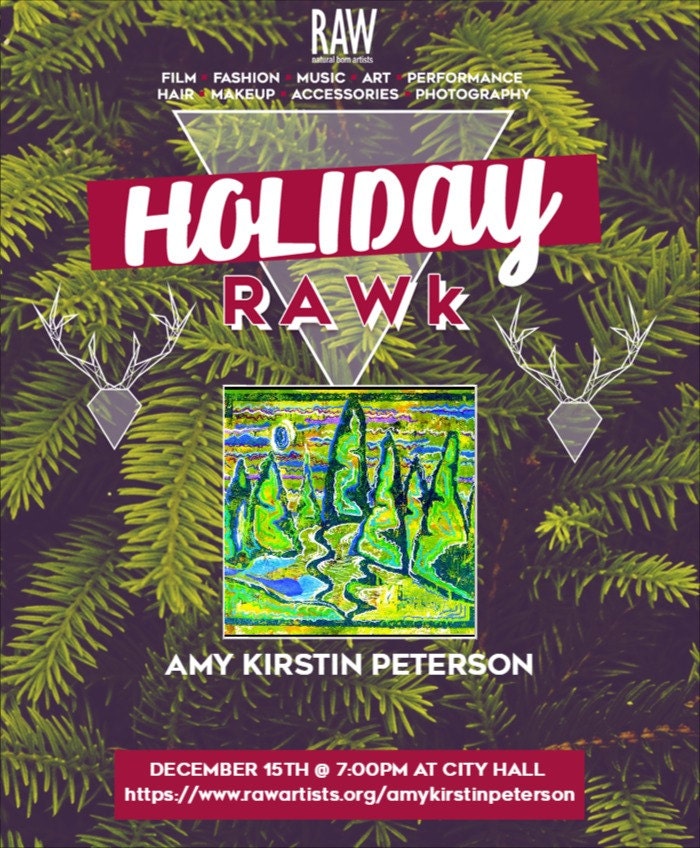 The deal between RAW and all participating artists is that we needed to sell 20 tickets to the event, or pay the difference if we wanted to participate but fell short of the ticket quota.  It was also clarified at the walk-through that we would receive professional head shots and photos of our booth as part of our participation.  I've come across a lot of different configurations for art events, and this is by far the most artist-friendly version I've seen yet!
I printed up a bunch of my flyers and handed them out to friends and co-workers, and having 2 jobs to pay the bills gave me 2 public high-traffic areas to put out even more flyers.  I also used all my social media outlets to promote the event.  I contacted friends and family, and spoke to customers at both my jobs.  It was a lot of work and time, but I was really psyched about this event so I kept plugging away.  I wanted to reach my ticket quota, but I also really wanted people to come and experience what was shaping up to be a really awesome event.
I recieved pretty regular e-mails from my RAW show director throughout all of this.  She was great about sharing ideas, laying down timelines and keeping everyone up to date on how the event was shaping up.  Throughout the whole process I was really impressed with how well the RAW team communicated with us artists!
And, of course, the end goal was to have a beautiful presentation for the show AS WELL AS sell all 20 of my tickets, so there wasn't time to lose focus on my art while doing all this promotion. I completed a couple of pieces that I had been working on, then I started attacking all of the "admin" work associated with being an artist.... framing, matting, labeling, taking inventories, collecting business cards, printing promotional discount cards, preparing for different display options, making prints and figuring out how to solve problem after problem that always comes up when completing creative work. Whew, it was exhausting keeping up with all of this while continuing to work 50 hours a week at my 2 jobs and taking care of my beautiful daughter!
At about 1 1/2 weeks til the event I was coming up on my ticket sale deadline with only 6 tickets sold. I knew I could sell more tickets, I just needed more time. I reached out to the show's director and asked for an extension on my ticket sales and she granted it with no problem.  Again, the RAW team proved helpful and wonderful to work with!
Around the same time the floor plan for the event was released to all of us participating in the event. I wasn't super psyched about my spot, and I was concerned about the load-bearing ability of my proposed display wall, so I again contacted the show's director.  Lo and behold, the best spot in the house had just opened up, and my timely request for another spot resulted in an amazing move to booth #1!  I was pretty excited before, but now I was absolutely brimming with excitement for this event!!!  I had more space to work with, and the most visibility of any booth at the show!  I was set up for success to be sure!
My newly amped excitement for the night must have been infectious, because by the day before the show I had sold all but 2 tickets to the event!!!!  I could afford to pay the $40 to participate, and I hoped to recoup the cost through sales at the event.  Now all I needed was to make it to the event with everything I needed and in one piece - easier said than done!
I barely slept during the nights leading up to the event, and I was riddled with nerves the closer the event came. As soon as I got off work those last few days before "Holiday RAWk" I was busy framing, printing and making displays.  I had many grandiose ideas that I had to take off the menu as the event got closer.  I just didn't have the time and money to do everything I wanted, but I reminded myself repeatedly that people wouldn't know what I had planned, they would only know my final result.  A huge part of being an artist is making decisions.  You decide on every little detail for every single piece, and then when it's time to show your work you decide on every little detail on every aspect of the show!  The final result of the show is contingent on every single small decision that you made coming together to create a bigger picture of your artistic vision.  I don't think that most people realize the level of detail that goes into every piece and every show that I create!
As the day of the show dawned I worked ferociously to complete my last few projects.  Check-in time for visual artists was 2 pm, and I made it there by about 2:45.  I had a complete visual in my head of what my finished space would look like, but I completely underestimated how long it would take to set up that vision!  At about 5:30 I was pretty confident with my set up, and having only a half hour left to get my head shot taken I went to work on my own personal canvas.  I didn't want to waste the opportunity to have these professional head shots done, so I actually took the time to apply make-up and style my hair.  I'm usually a VERY casual girl, so this was a whole new level of commitment to the day!  When I walked back from having my photos done I caught a glimpse of my space and had a surreal moment of seeing it through someone else's eyes.  And I was impressed!  It's not often that I impress myself (I am DEFINATELY my own worst critic!), but tonight I had done it!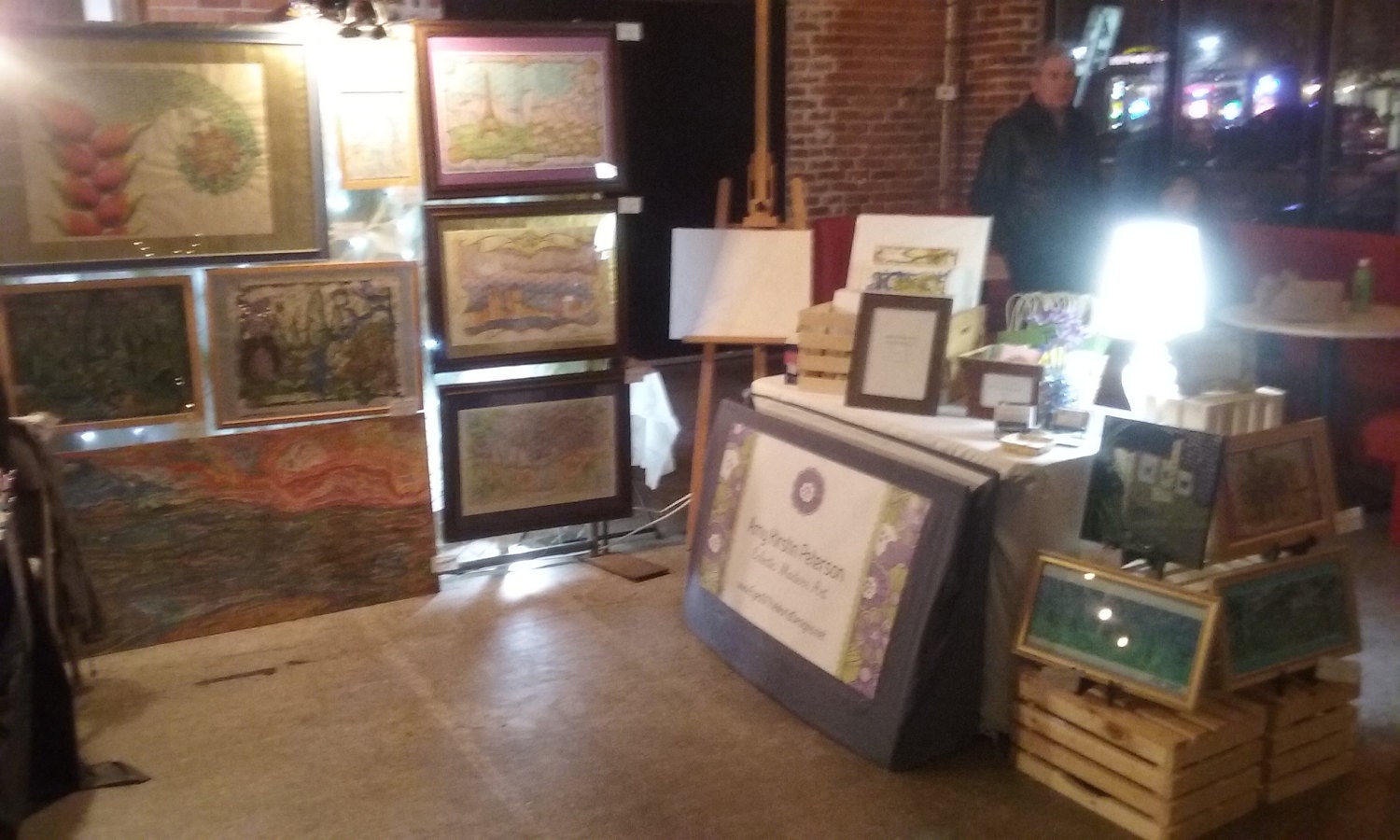 I didn't have a ton of wall space, but I really liked how my limited space did turn out!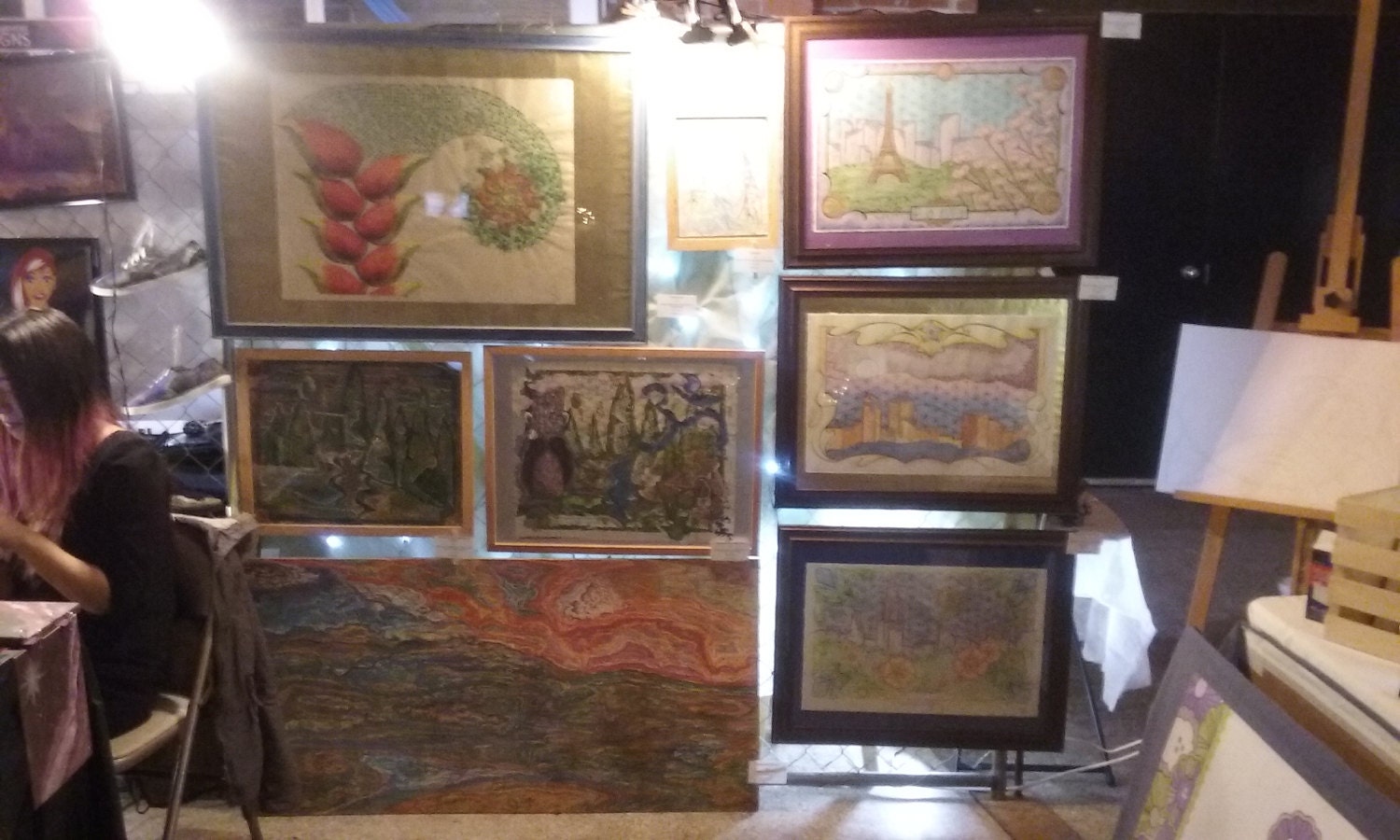 And my table display was the cute but professional representation of my little company that I had hoped for!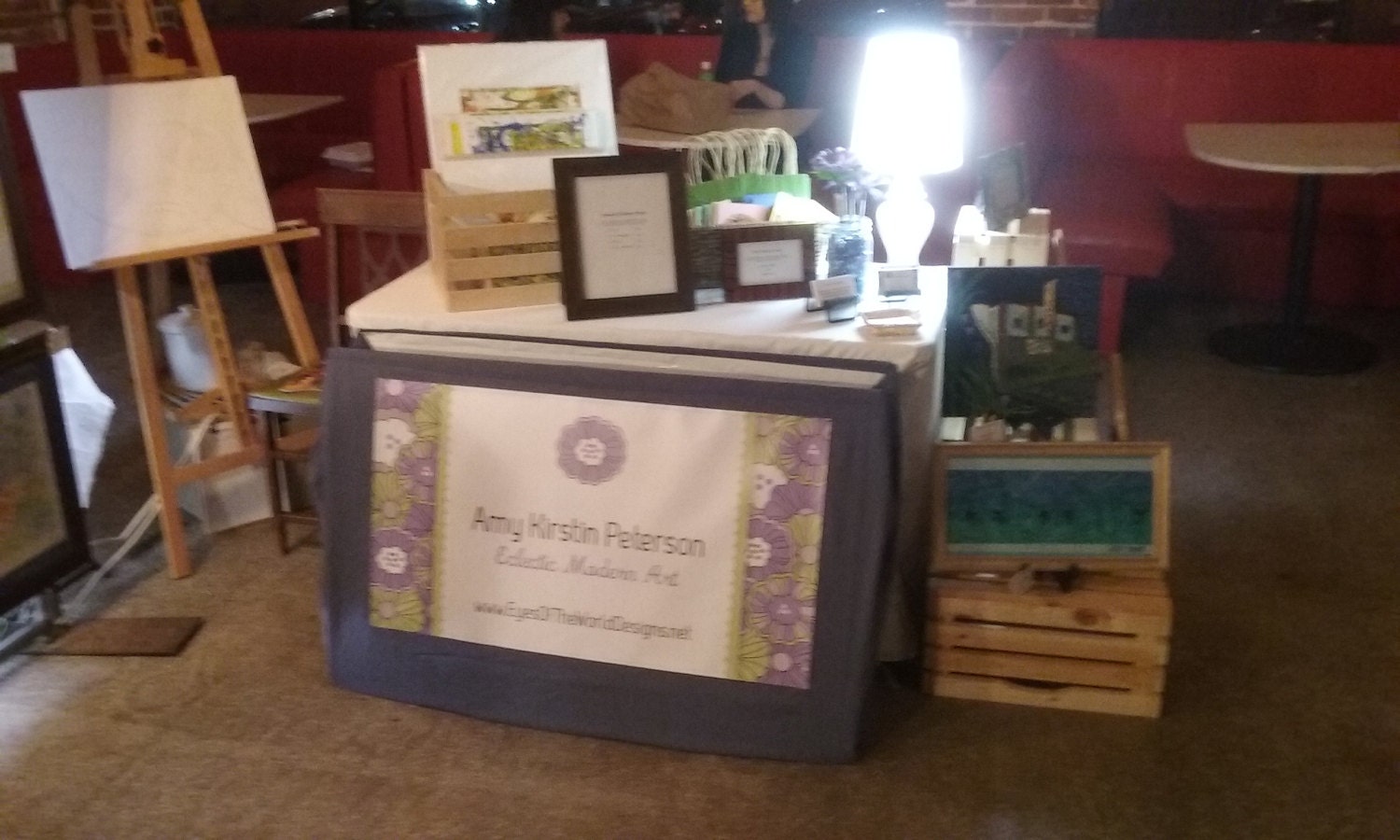 I used wooden creates turned upside down to add some extra display space, as well as to draw people into my space with PLENTY to look at!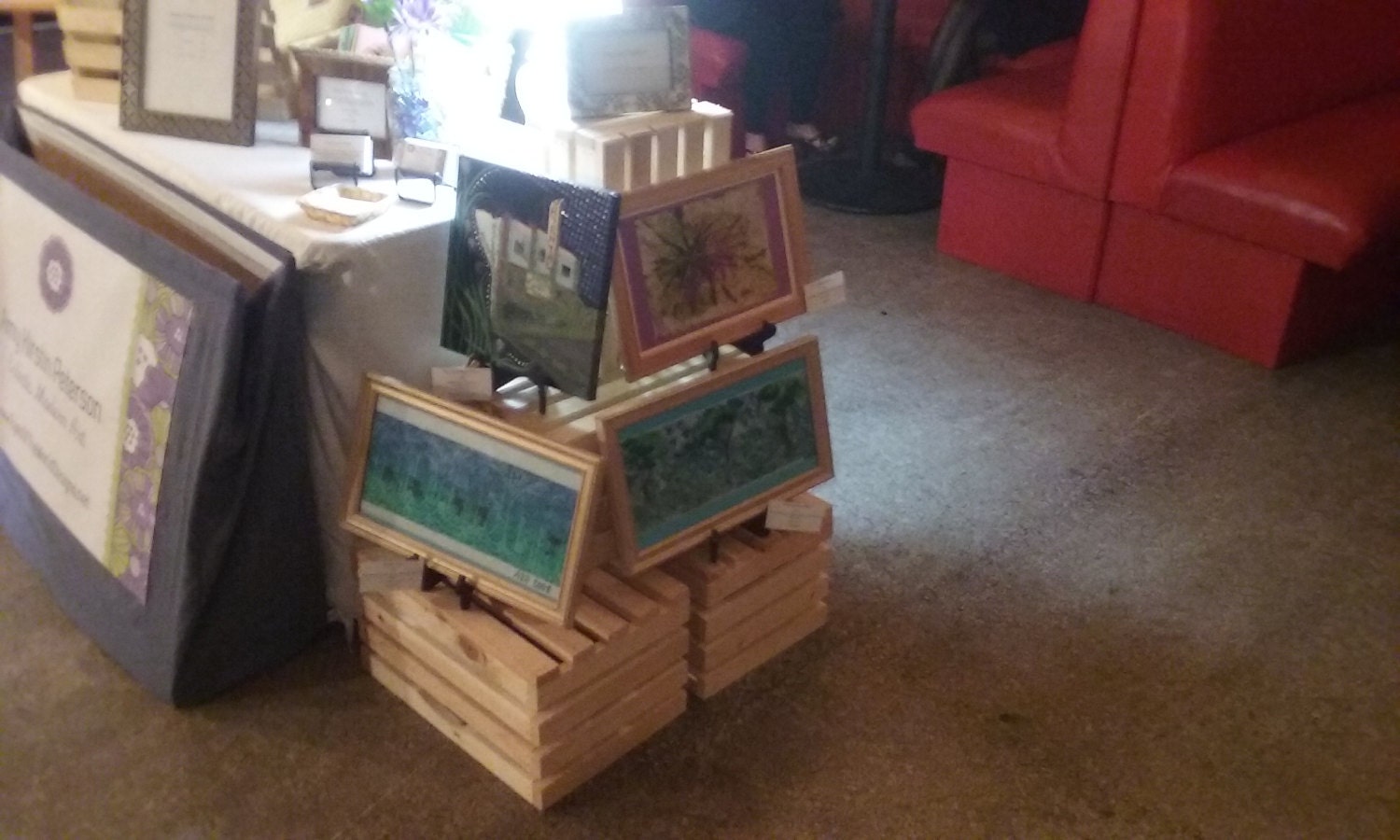 By 6:00 on show day I was set-up, made-up and had my pictures done.  The doors were opening at 7:00, so I took that last hour to start on the live painting that I was planning on doing during the event. (I had sketched out my main idea before the event, so I was able to proceed with painting right away.)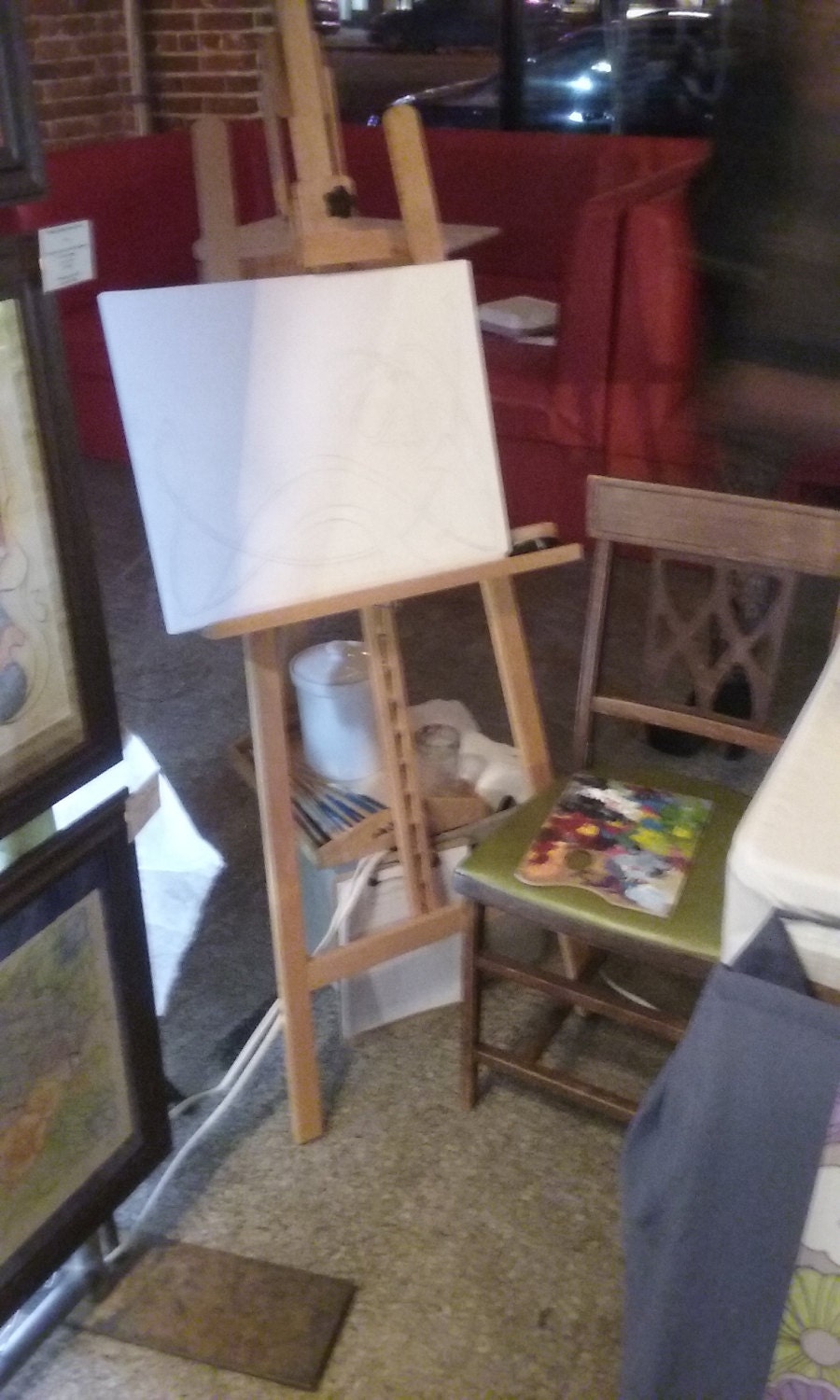 As I painted I noticed a line forming by the front door.  By 6:30, that line was curling around the block!  I felt anxiety rising from the pit of my stomach, but I just pushed that feeling down and kept painting.  It can be very scary to show your work to the public, knowing that your heart and soul is in it, and people can be not-so-nice when they don't like something.
As the first people starting coming in I felt more and more nervous, but painting always calms me, even under the most anxiety ridden situations!  The first person the view my art was absolutely floored and had no problem telling me that my art was blowing his mind.  Whew!  SUPER positive feedback to start the evening - I needed that!
The evening flew by in a blur!  So many people came through my space, but I just kept painting until someone wanted to talk or ask questions.  I was so thankful that I decided to live paint at the event, it really curbed a lot of the overwhelming feelings that came with such a well-attended event.  My friends came and offered their support throughout the night as well, which was also great for curbing the overwhelm!!! 
I can't even count how many people I had invigorating conversations with that night.  It was so great to just talk about art for hours at a time!  I sold some prints and art-print cards throughout the night, so I did earn back my small monetary investment.  I passed out so many business cards and promotional discount cards!  This one night did more for getting my art out to a broader audience than anything I had done previously!
By the time 11:00 rolled around I was exhausted, and ready to stop painting. I was pleased with the progress I made on the piece in just one very busy evening: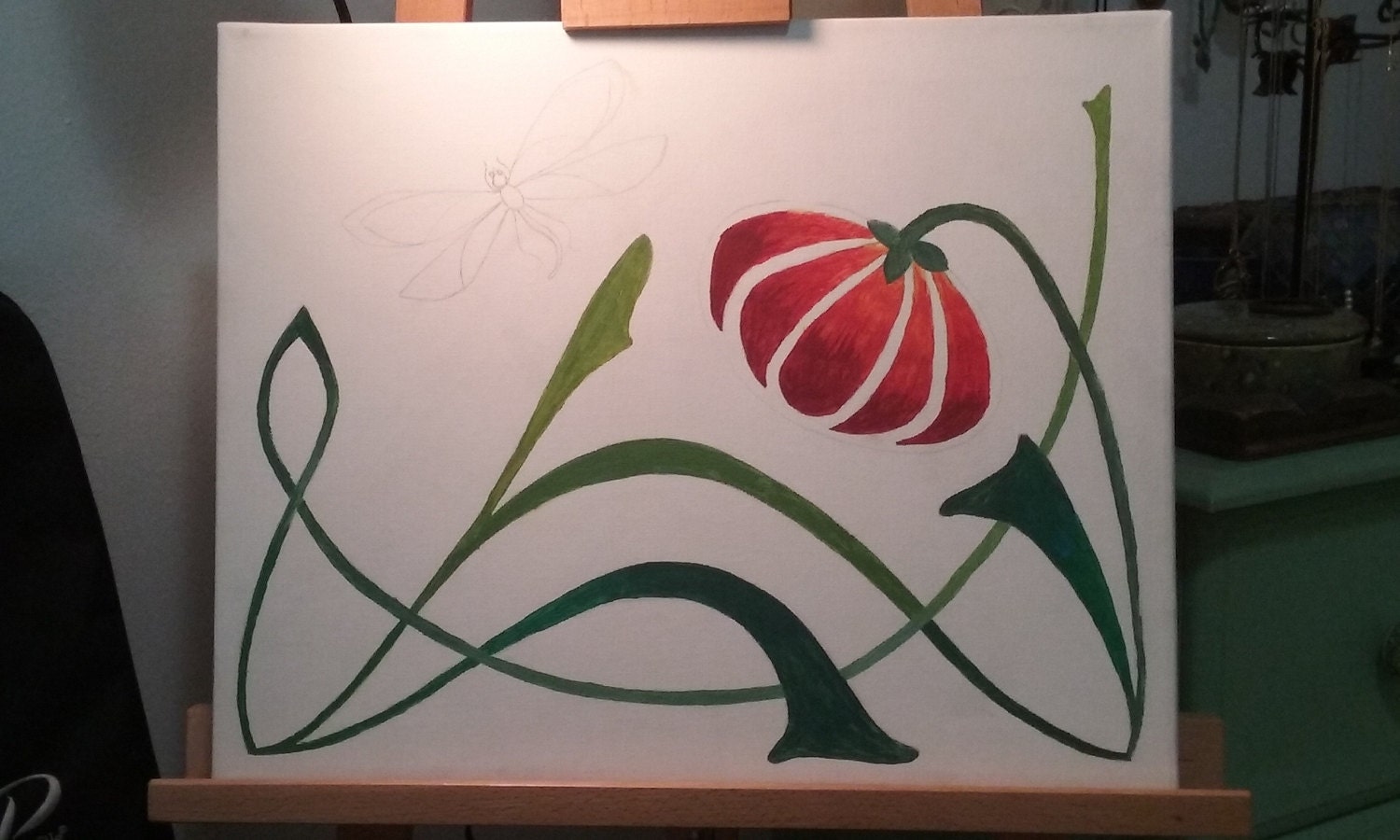 But, I'll be honest, at that point in the night no one had to tell me to hurry up and get myself and my stuff out of there!  My car was packed and I was driving away by 11:45 pm.  And not a minute too soon, I fell asleep as soon as I got home!
I learned so much about myself as an artist and about showing my work publicly by participating in "Holiday RAWk, Denver"!  I'm so grateful for the experience, and I continue to be absolutely flattered that RAW scouted me for such an epic event!  I wouldn't trade this expereince for anything, and if any artists out there are thinking about doing an event with RAW I say go for it!  They were amazing to work with, and the event itself was a complete success!
As part of the package of participating in an event with RAW you are eligible for an out-of-town show with no ticket quotas within a year of your first show.  I'm thinking about heading to the west coast this spring to do just that.  Stay tuned for any further developments!