The concept hit my like a freight train, the idea took my breath away.  How in the world am I just thinking of this now??? 
 My two loves, painting and beadwork, how am I JUST NOW realizing that they are meant to be together?!?!
Sometimes it takes looking at things from a different perspective to put the oh-so-obvious pieces together.  In my mind painting and beadwork had been separated by their purposes.  Beadwork was used to make jewelry, painting to make wall art.  But why the heck can't beadwork be used for wall art, too?  As soon as I asked myself this question I knew what my answer would be.
I have been inspired lately by art nouveau motifs and plant life, so the idea of a stylized flower was my first concrete decision for this fusion project.  There are many beautiful art nouveau interpretations on the dragonfly that I thought would translate well into bead embroidery, so there was an easy second decision for the piece.  Now for technique....  Since this is my first attempt at combining beadwork and painting I really had no steps to fall back on, I was going to be figuring out all of it as the piece unfolded.  That's fine with me, there's nothing like a good challenge to get the creative juices flowing!
I decided to start with the painting first, and then I'd add the beads on at the end.  My only thought on the matter was that I would hate to get paint on the beads if I did things in the other order, so this seemed like the logical approach.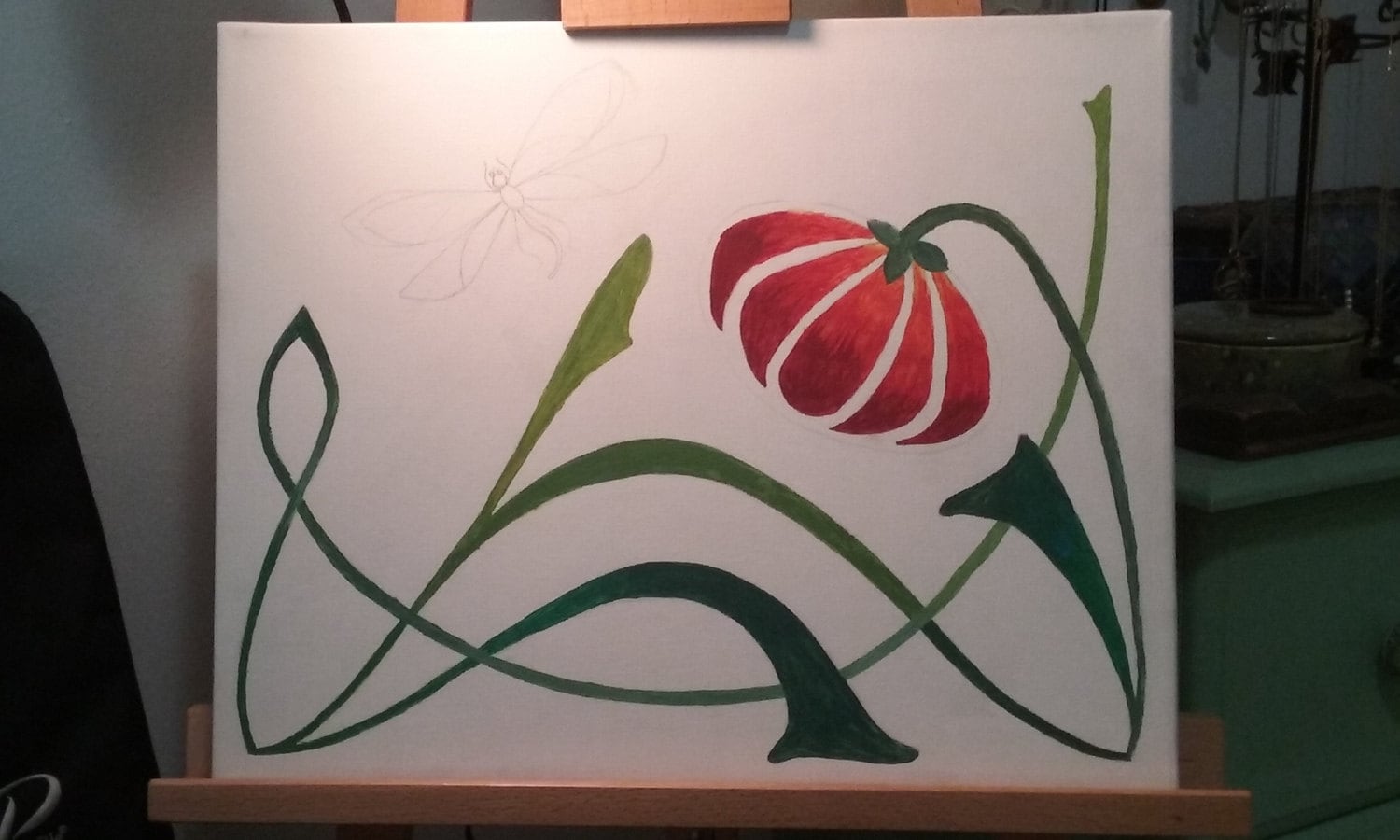 Step 1:  I got the basic image drawn out on the canvas and the base layer of paint on the poppy during some live painting at the pop-up RAW  event that I participated in at the end of 2016.  Unfortunately, painting in low night-club lighting with spotlights on the canvas is not ideal, so much of this base layer will be re-worked for color saturation and cleaning up of edges.  But the color choices will definitely be staying while I touch things up!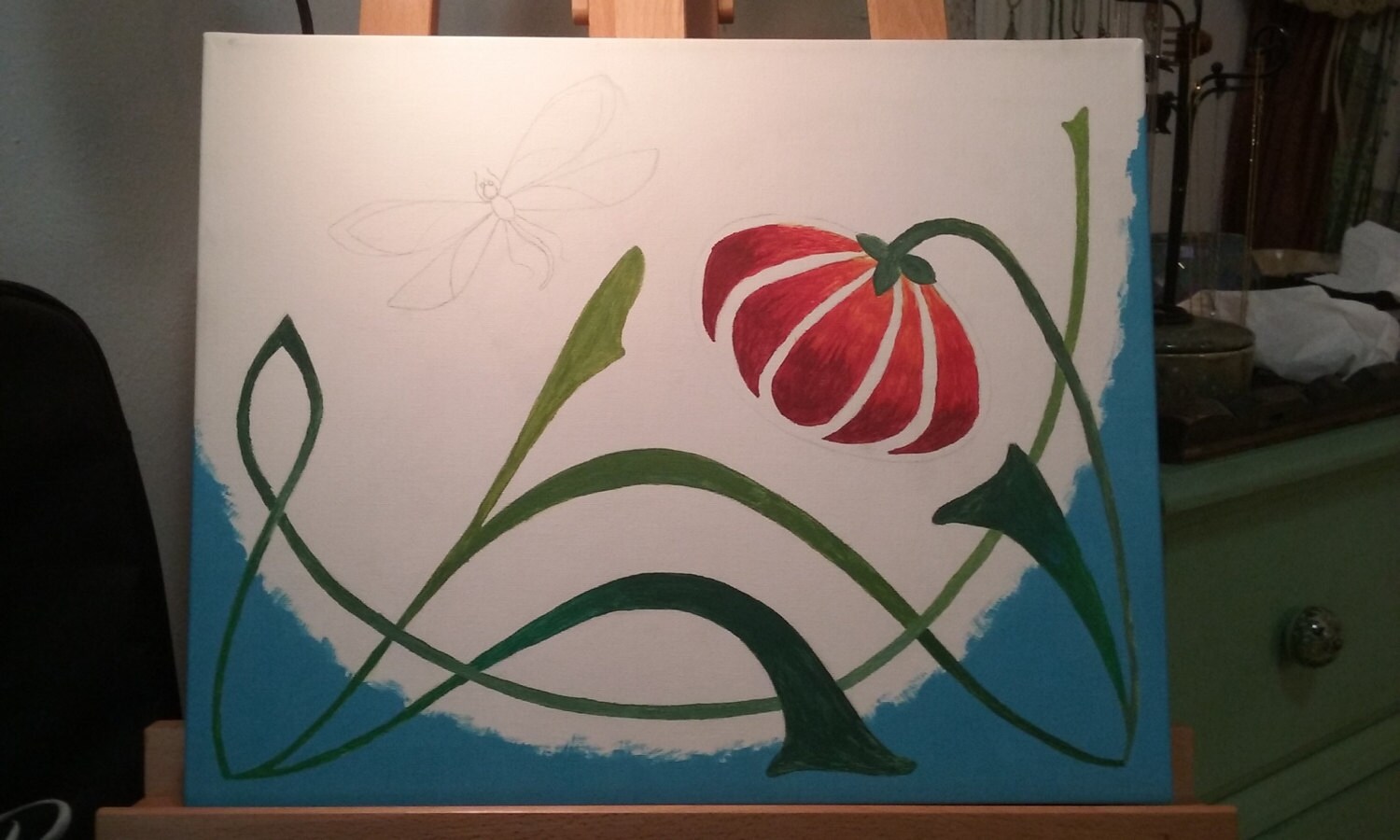 Step 2: I started the background with a general concept in place. The idea here was to use shading to create a tunnel effect, using the shape of the poppy to inform the curve of the "tunnel".  I started with a light blue around the bottom, aiming for a "midnight blue" as the darkest shade.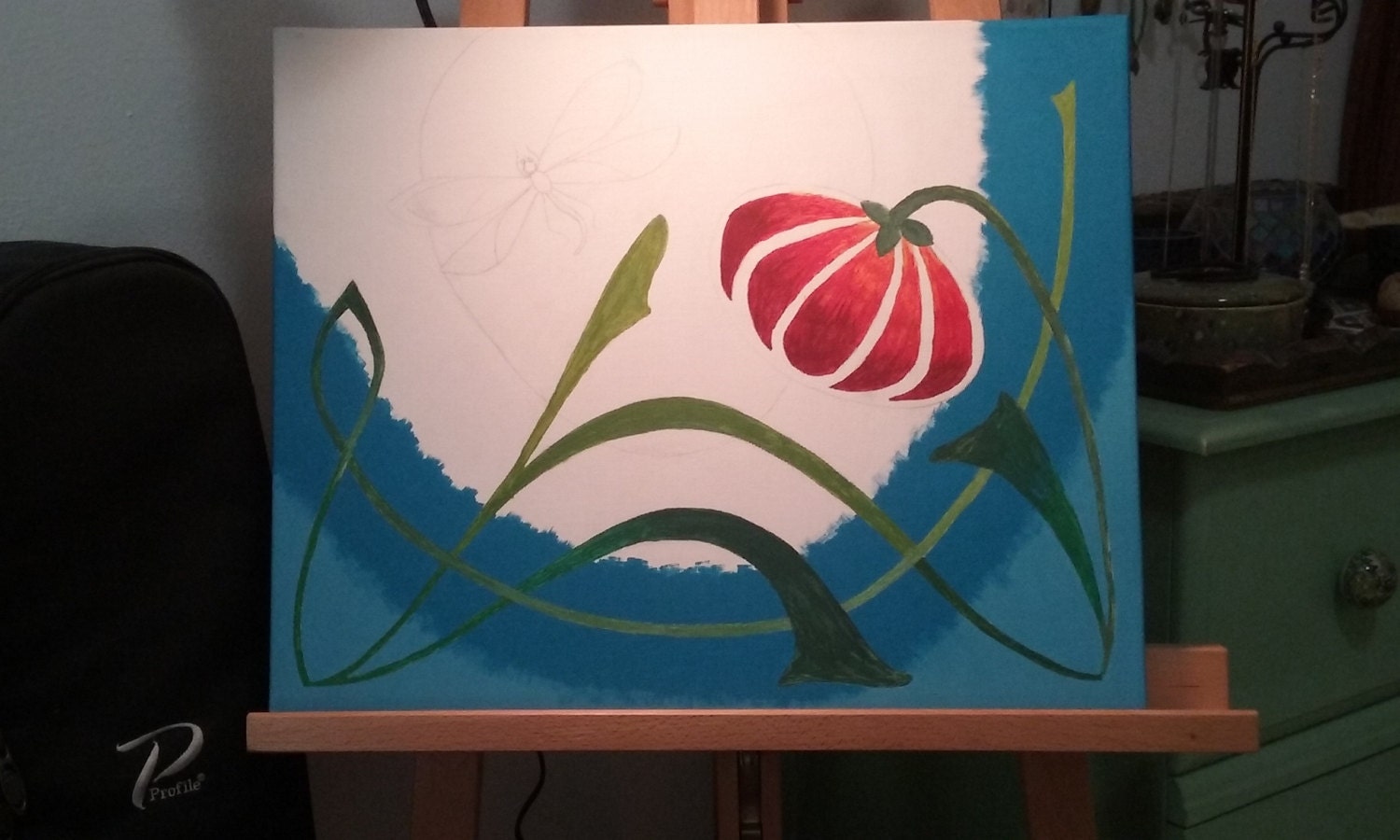 Step 3: The next band of the "tunnel" was made with plain 'ol azurite blue, straight out of the tube.  AS you can see in this photo, I highlighted the curve of the poppy stem with this layer of blue.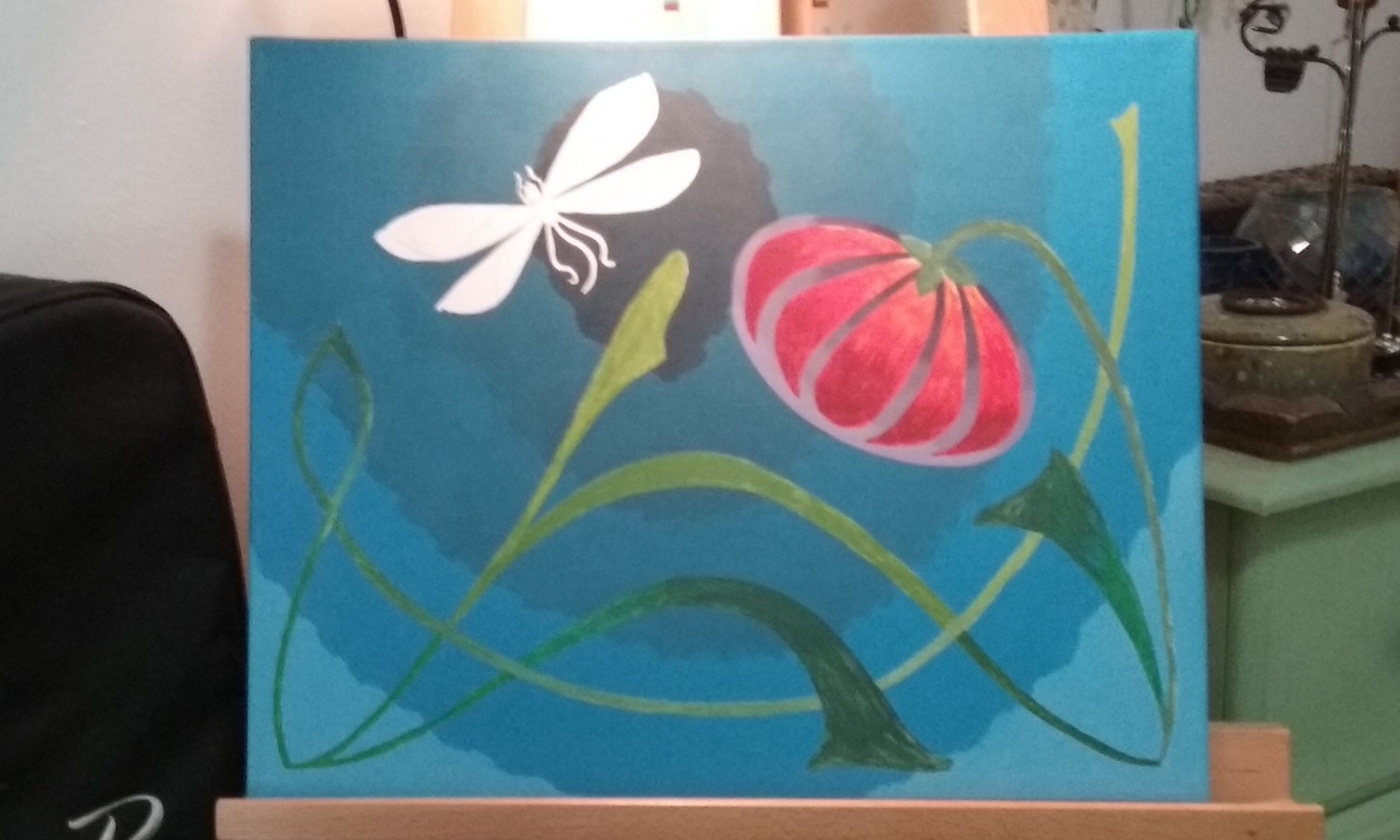 Step 4:  A few more layers of blues and the background is done!  I like the effect I'm getting here, it's starting to look like the vision in my head!  At this point I'm starting to think about my beaded dragonfly, and the colors I want to incorporate on that little fella.  I used some purple highlights on the poppy so that it will tie in with some purple highlights that I have in mind for the dragonfly.  I decided to leave the canvas blank where I will be sewing the beads, since I'm not sure what effect would occur from puncturing through paint when it's time to embroider.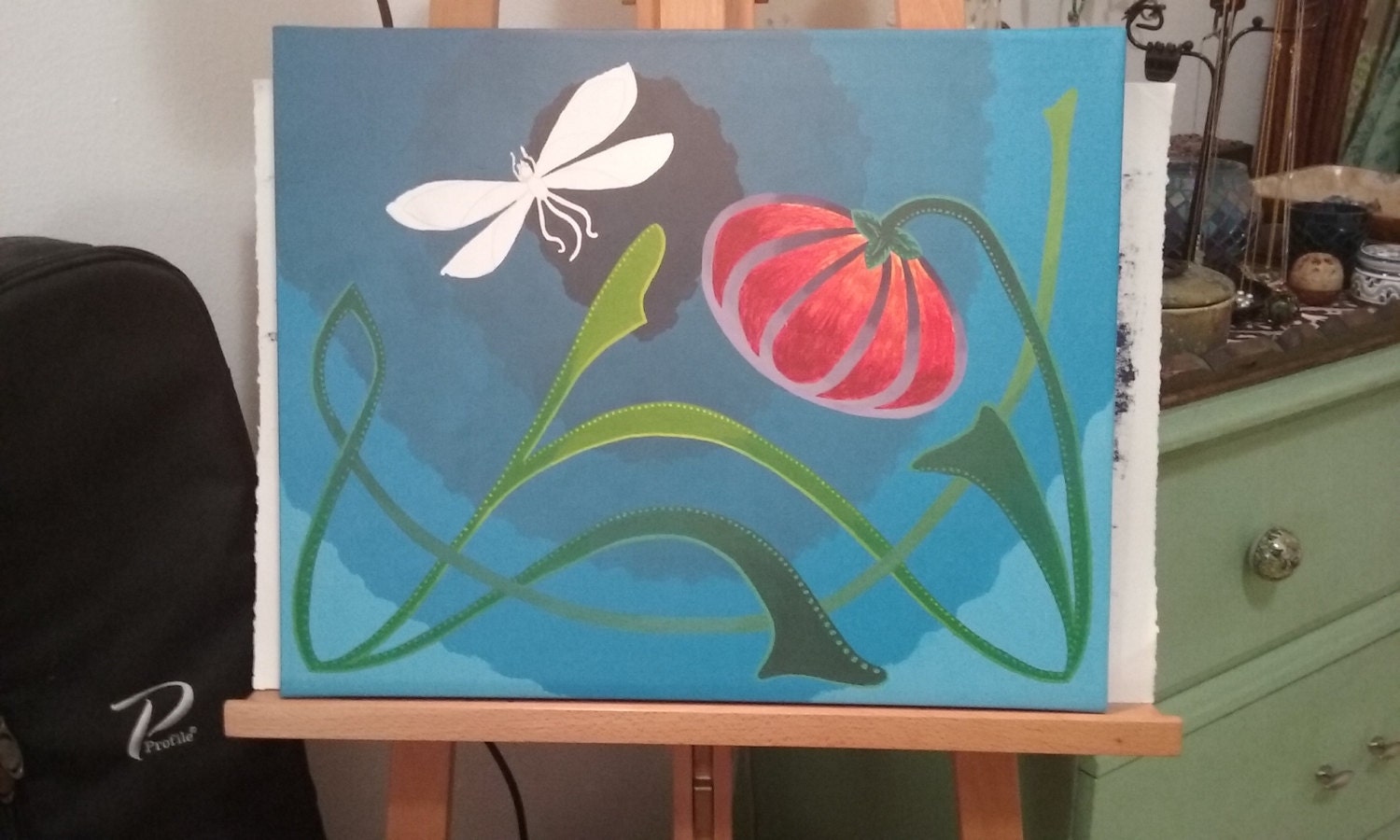 Step 5:  With the background fully in place it's time to clean up the stalks/leaves of the poppy.  I went over these areas with some fresh paint, making sure to get nice clean edges along the way.  When doing a stylized subject I find that the cleanliness of the lines is of paramount importance!  Once the green areas were touched up I felt the piece could do with a little more movement.  I used lighter shades to do outlining on one side of the stalks, and dot work on the other side.  A little bit of a modern touch to the art nouveau style.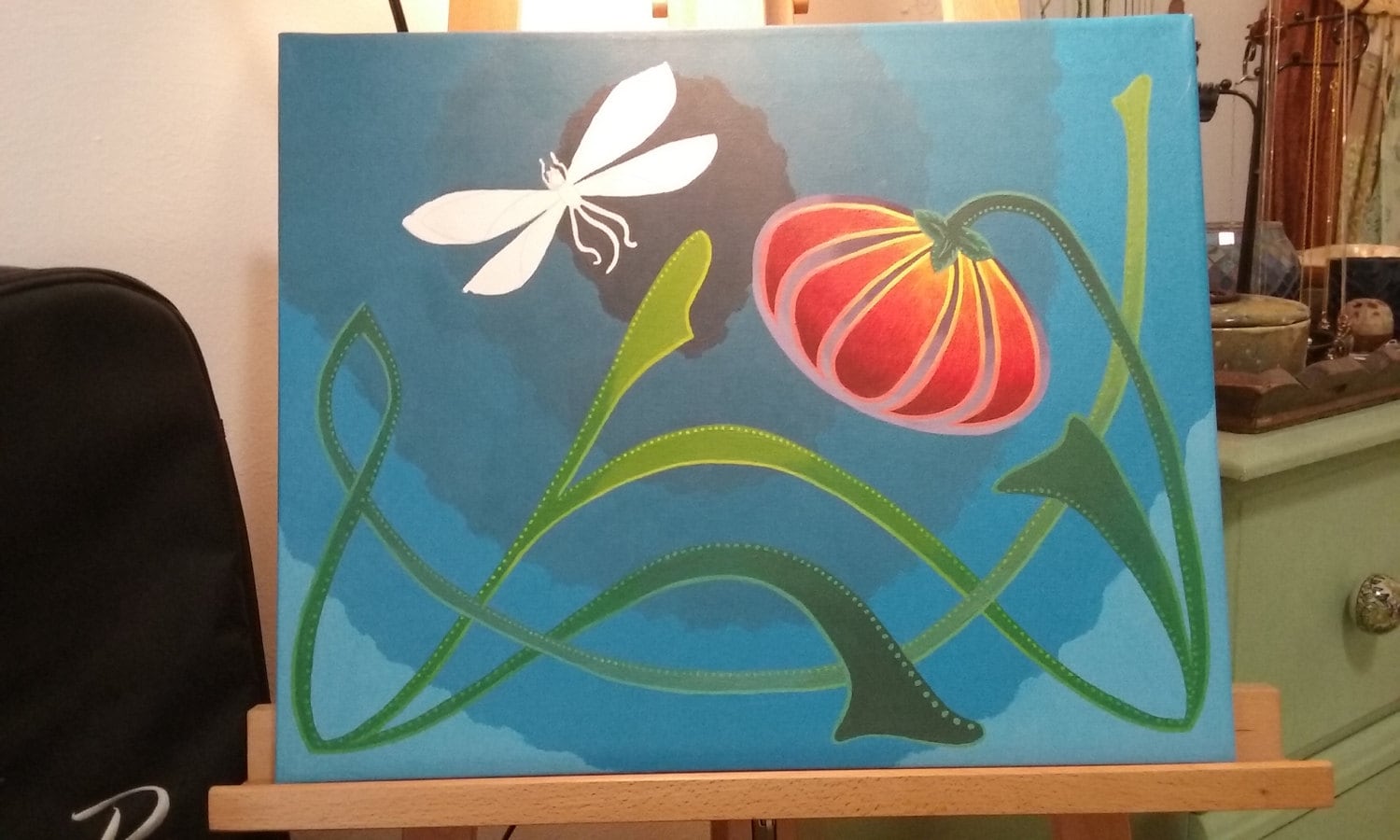 Step 6:  Once the stalk/leaves were all gussied up and pretty it became apparent that the actual poppy flower needed some TLC.  I went over the red petals with a second layer of paint, which really helped brighten things up.  But there was still something left to be desired....  I recognized another opportunity to incorporate some of the dragonfly colors , so I outlined the petals in a pink to yellow fade.  That certainly brightened things up!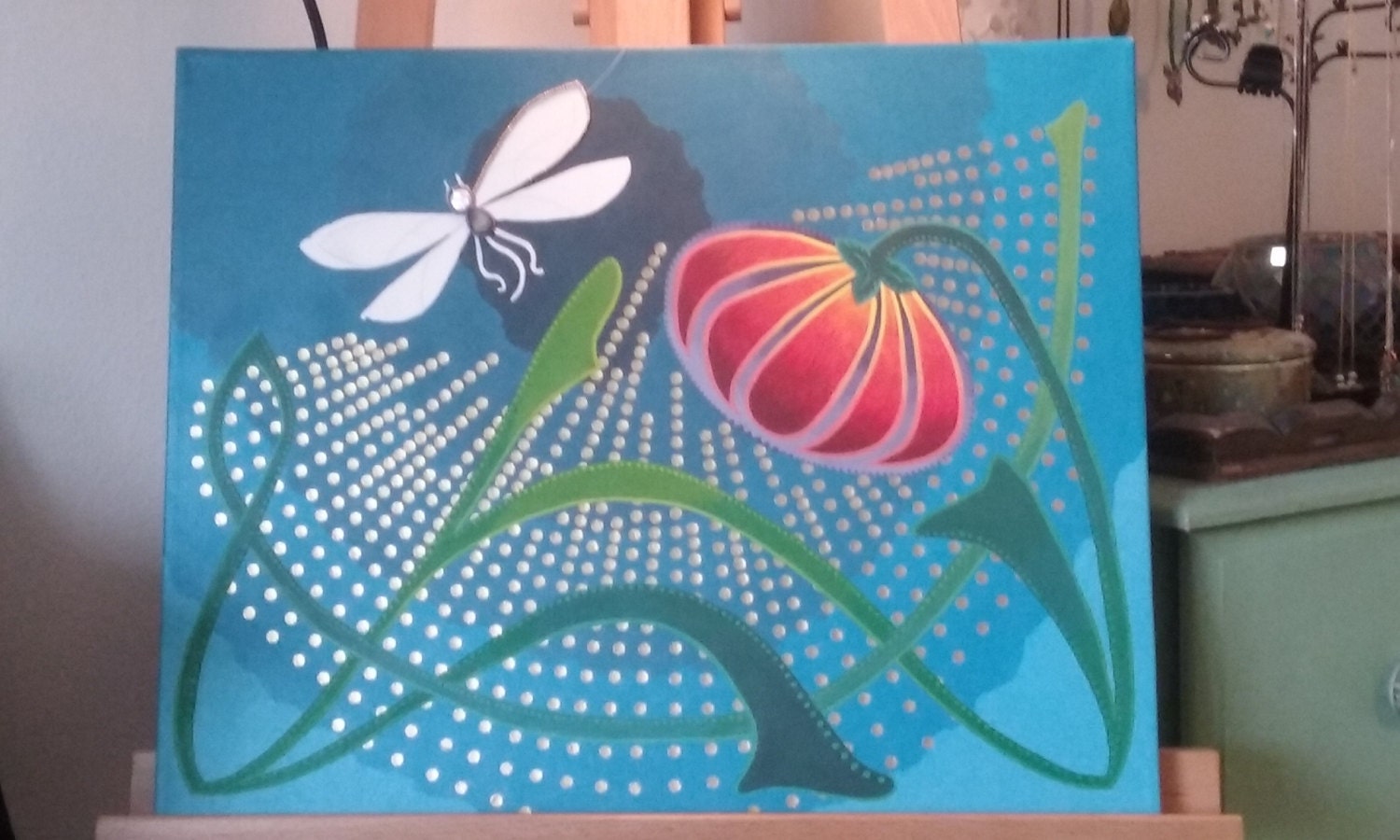 Step 7: The lighting effects and "tunnel vision" were really coming together at this point, but I wanted to accentuate these features with my own personal style.  I settled on some of my dot-style collage using a metallic gold paper.  I used line work and dot spacing to accentuate the tunnel idea, and the gold/metallic paper is so reflective that it really added a whole new dimension to the  overall lighting of the piece.  It took a while to glue all those dots down, but the end result was really worth it!  Time for some beadwork...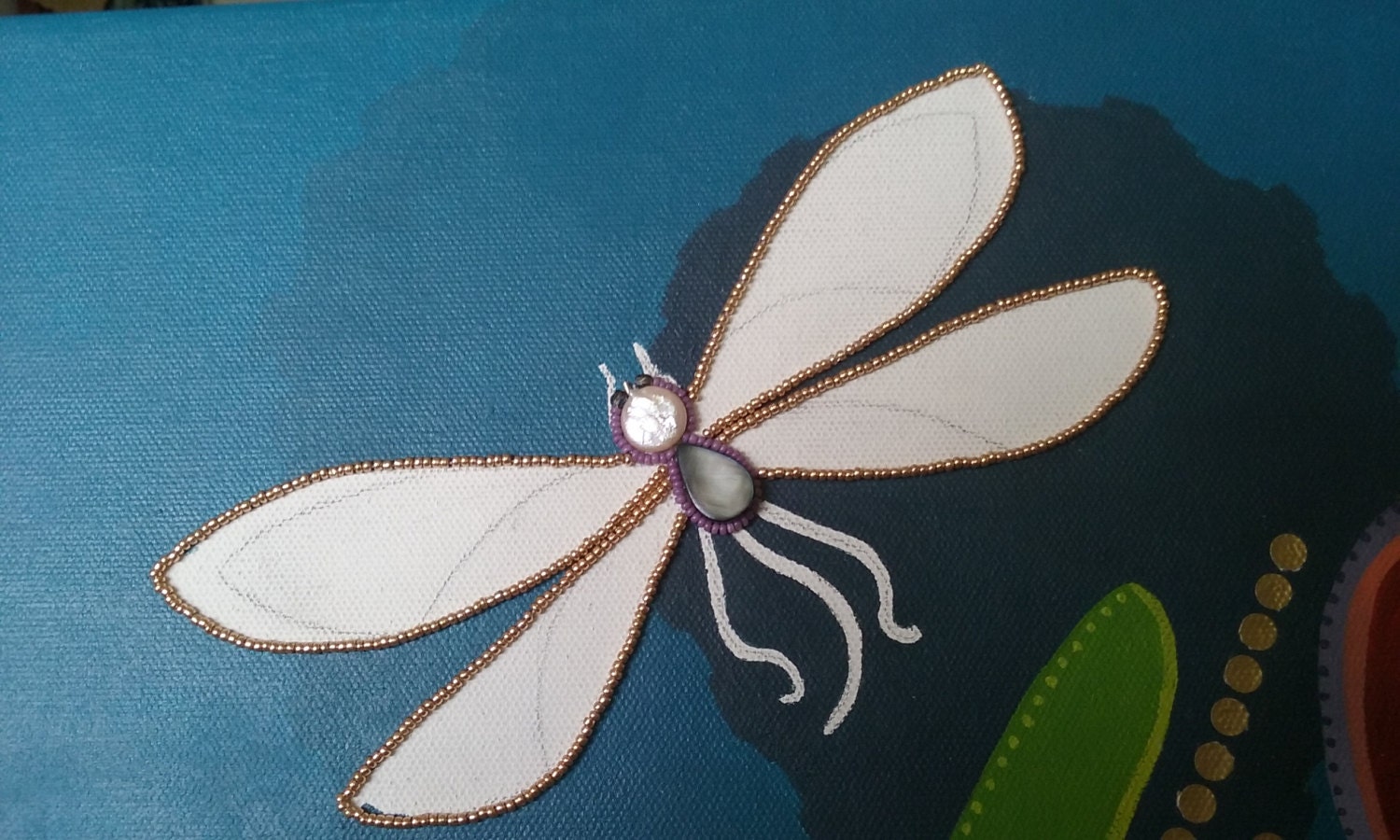 Step 8:  For years and years I've had bags of various shaped freshwater pearls, and I was overjoyed to find a god use for 2 of them!  The dragonfly's body is made of one rough freshwater pearl, and a teardrop cut gray freshwater pearl.  In order to tie in the gold collage work I started the outline of the dragonfly in a metallic gold bead in the same hue as the collage.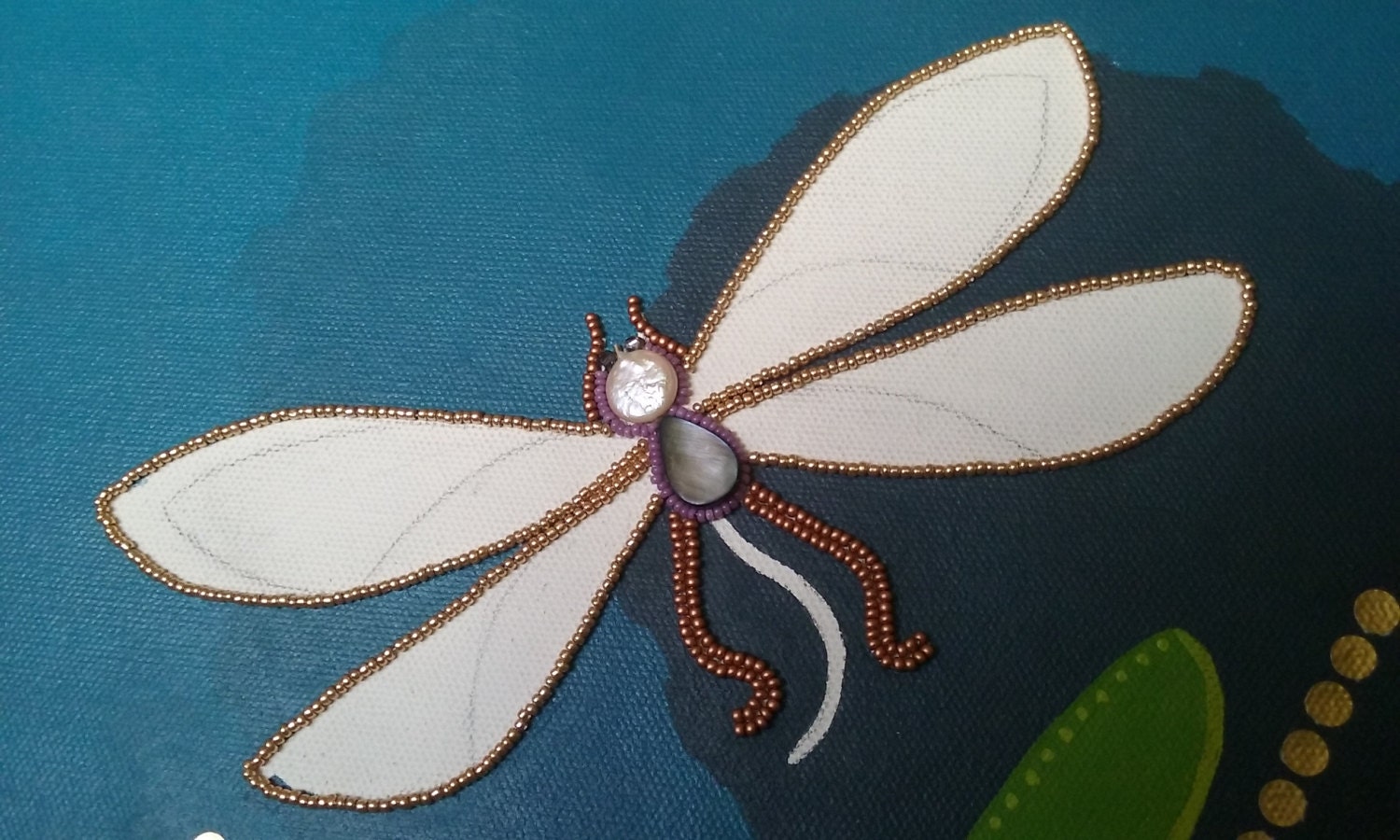 Step 9: In keeping with the metallic theme, I sewed the dragonfly's legs and arms in metallic copper beads. A couple grey Swarovski crystals for the eyes and this little guy is starting to take on some life!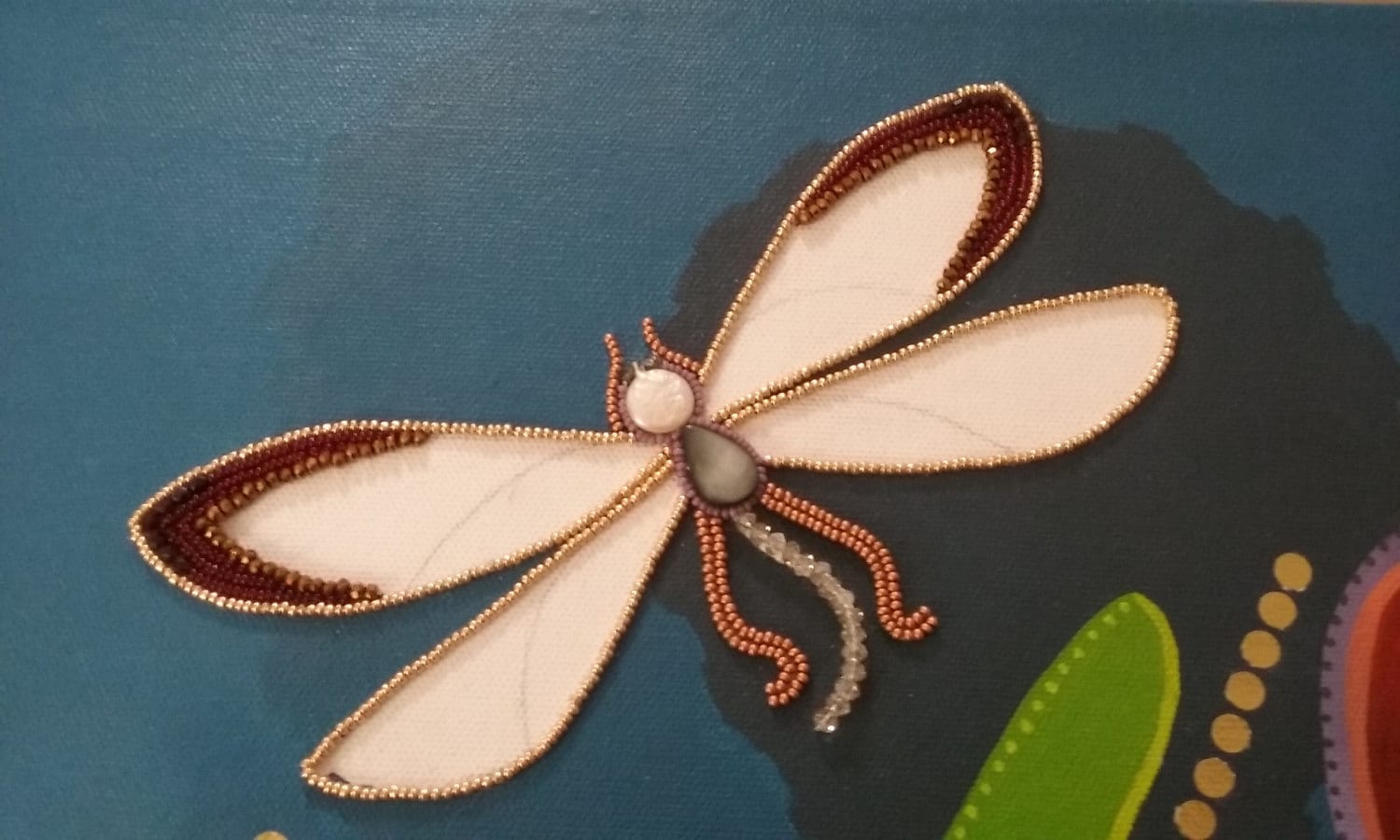 Step 10: Some light grey Swarovski crystals for the tail, and now it's just a matter of filling in those wings.  This is the fun part for me, where I get to play with color, texture and shape to create a beautiful effect.  I started with some splashes of red in beads and crystals.  I matched the red to the darkest part of the poppy petals to maintain continuity throughout the piece,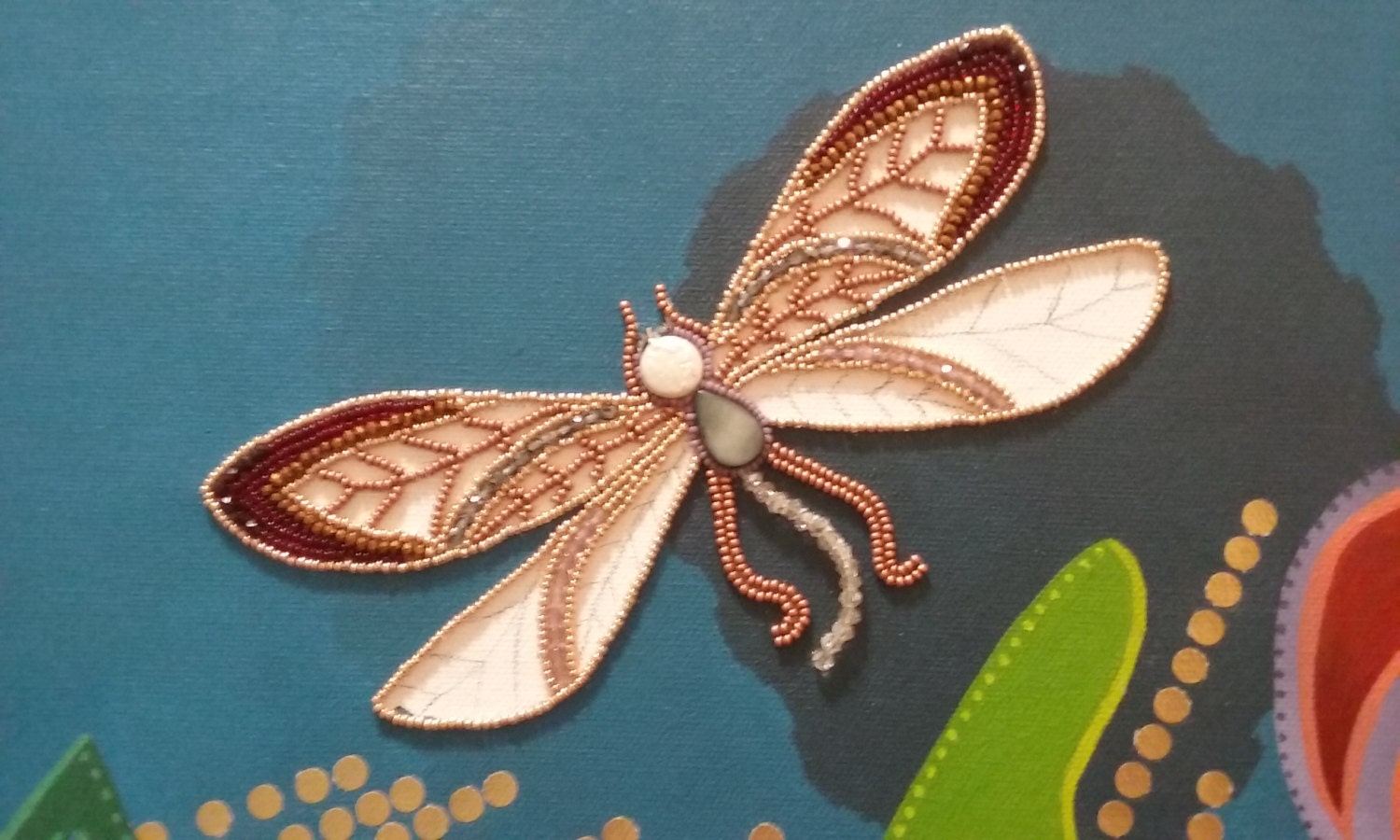 Step 11:  Next I sewed some "veins" in the wings, in order to create structure for the rest of my color fills. Keep in mind that I have been sewing beads for about 10 hours to get to this point, but there's still so much left to finish!  I love beads and the finished effect of bead embroidery, but boy oh boy is it time consuming!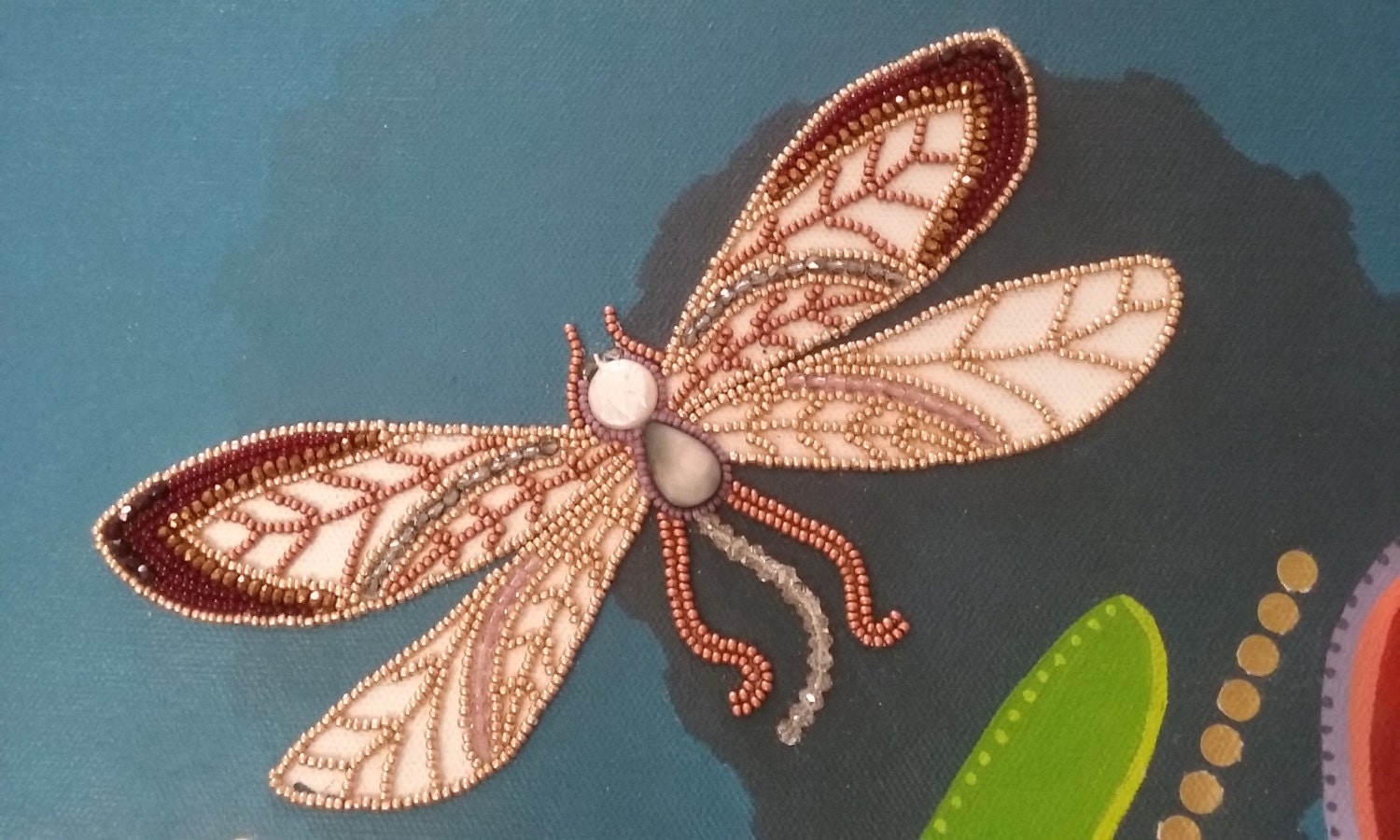 Step 12: Another few hours of sewing and the wing "veins" are finished!  Time to dig out some pink and lavender beads to finish this baby up!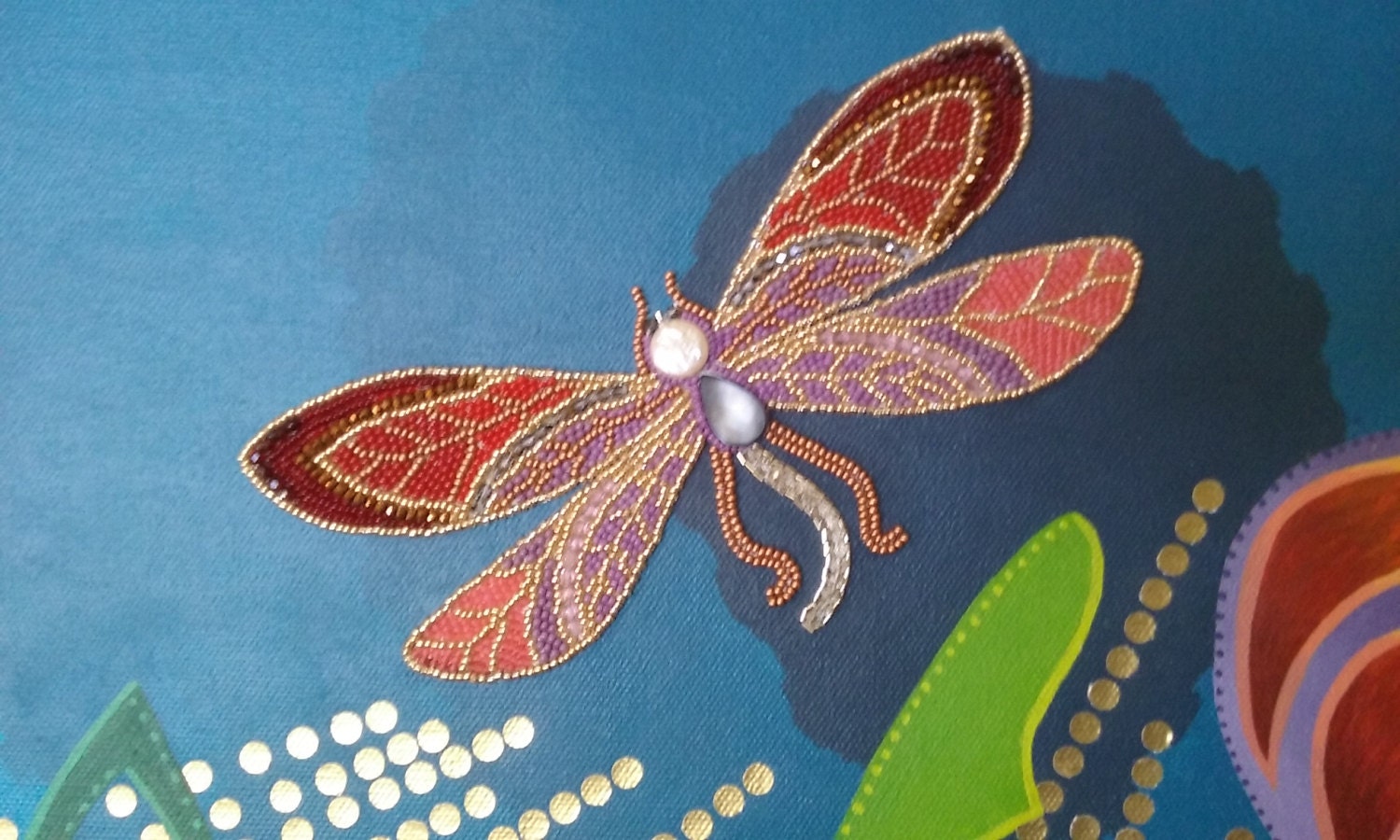 Step 13: After another 15 hours of beading, my beautiful dragonfly is finished!  I knew it was going to be pretty, but I'm completely amazed at how stunning the finished product is!  This is what makes all those tedious hours of beading truly worth it!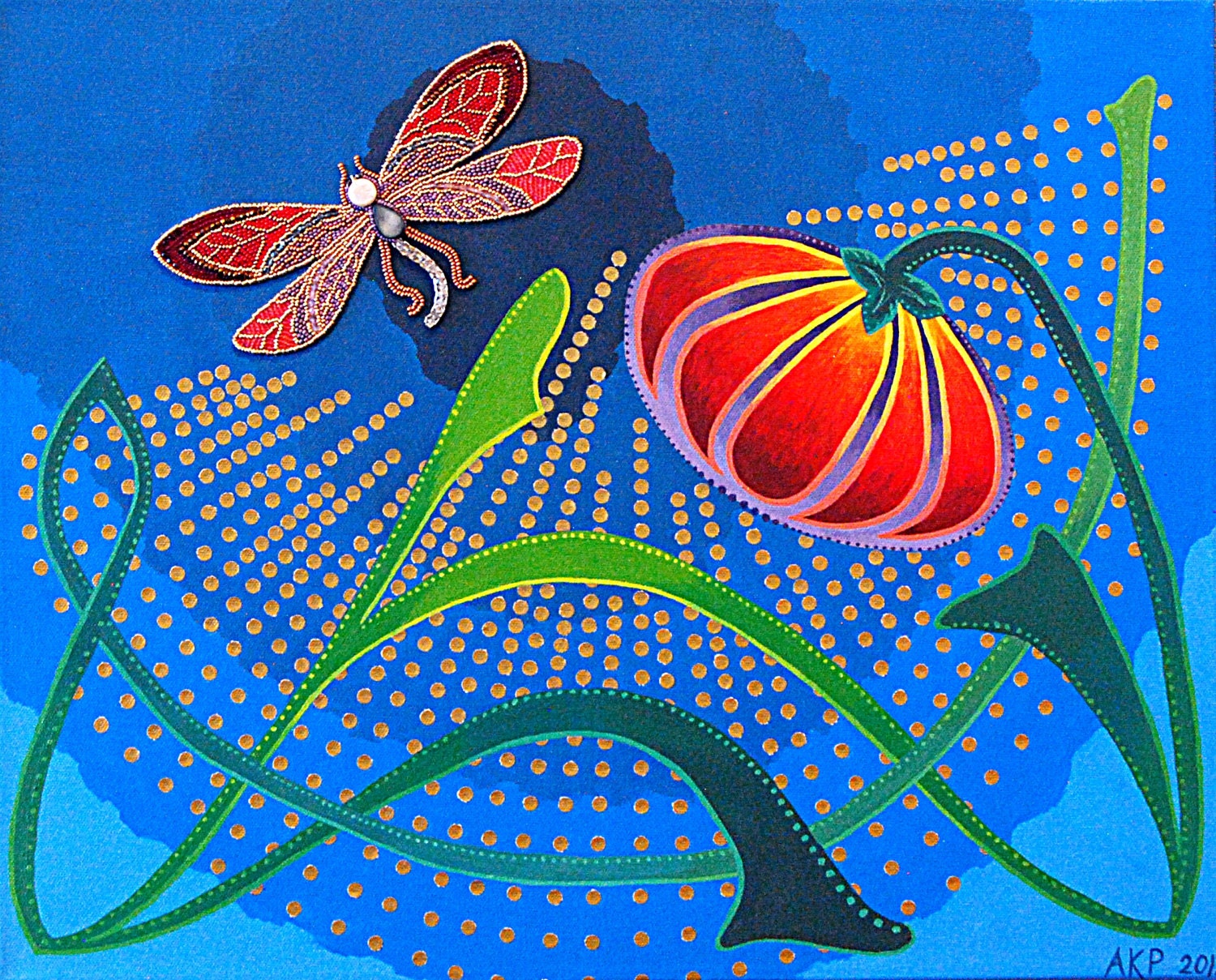 FINAL RESULT:  Here's the finished piece, taken with appropriate lighting to catch all the color and  brilliance!  This is definitely one of my favorite things that I've ever made, and I absolutely can not wait to show her to the public!
***EDIT: "Chasing the Dragonfly" has SOLD within the first week of her public showing!  I knew she was a winner!